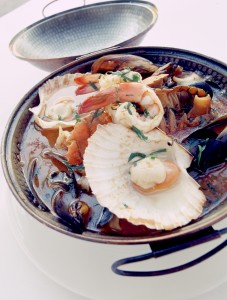 Cataplana is the name of the copper cooking vessel used to cook peasant stews in Portugal. Traditionally a Cataplana was made up of all the "left overs" such as off cuts of seafood that wouldn't sell at the markets or the trimmings of pork or goat or whatever else was hunted. Being true to Portugal; red wine, potatoes, onions, tomatoes and a good douse of olive oil were added.
Our version is far from peasant with the addition of saffron and premium seafood, however the cooking method and base flavour is true to it's peasant origin.
Portuguese Cataplana of Seafood Recipe

Cataplana sauce
125 ml Brookfarm macadamia nut oil
2 brown onions, finely sliced
2 garlic cloves, finely sliced
8 anchovy fillets, chopped
2 tablespoons Lisbon paste
4 fresh bay leaves
375 ml dry white wine
500 g tinned chopped tomatoes
1 litre fish stock
A pinch saffron threads, steeped in 250 ml hot water for 20 minutes
10 drops Tabasco sauce
2 star anise
12 black mussels
6 x 70 g skinless, boneless firm white fish fillets, such as mahi mahi, jewfish or snapper
6 small cleaned squid tubes
12 king prawns peeled and deveined, tails left intact
2 tbs Brookfarm macadamia nut oil
1 brown onion, finely sliced
1 garlic clove, finely sliced
1 tablespoon Lisbon paste
2 potatoes, peeled, boiled and cut into 1 cm
1 fresh bay leaf
chopped flat-leaf (Italian) parsley, to garnish
Method
To make the cataplana sauce, put the oil in a large saucepan over medium–high heat. Add the onion, garlic, anchovy, lisbon paste and bay leaves and sauté for 8–10 minutes, or until the onions are golden. Add the wine and tomatoes and bring to the boil.
Add the stock, saffron water, Tabasco and star anise to the pan and season with sea salt and cracked black pepper. Reduce the heat and simmer gently for 30–40 minutes, to cook out the raw flavours. Remove from the heat and adjust the seasoning if required.
Meanwhile, prepare the seafood. Scrub the mussels with a stiff brush and pull out the hairy beards. Discard any broken mussels, or open ones that don't close when tapped on the work surface. Rinse well. Slice the squid tubes in half to open and then cut each into quarters.
Heat the oil in a saucepan over medium–high heat. Add the onion, garlic, lisbon paste, potatoes, bay leaf and mussels and cook for 1 minute. Add the fish and toss well to coat in the oil.
Add the cataplana sauce and continue cooking for 3 minutes. Add the squid and prawns and cook for 1 minute. Add the prawns and cook until they turn pink and start to curl.   Garnish with parsley.
Serves 6
Lisbon Paste
3 red capsicums
150mls Brookfarm macadamia nut oil
3 Garlic cloves
¼ tsp smoked paprika
Sea salt to taste
Method
Place the capsicums on the char grill and blacken on all sides. Alternatively you can roast in the oven or grill until the skin blisters. Place the capsicums in a stainless steel bowl and cover with plastic wrap and allow to cool. When the capsicums are cool peel the skins and discard. Remove the seeds and inner membrane.
Chop the capsicums and garlic roughly and place in a blender with the remaining ingredients. Blend until smooth. Store in the refrigerator covered with a layer of oil for up to 2 weeks.